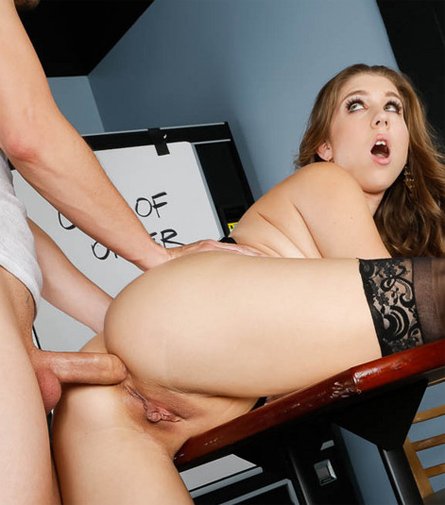 Alex Chance isn't only a hot pornstar babe that love to fuck, she's also more than willing to take it in the ass too, because it really makes her cum hard! Check out this Naughty Office story:
Alex is in the break room looking for some caffeine to help her with her drive home, when she comes upon a out of order vending machine and nothing in the fridge next to it. As she turns to leave, she drops her documents on the ground and Richie the janitor helps pick them up. Richie asks why she is there at this time and Alex says she's just trying to keep her job. Richie doesn't think they would fire her because they would want to keep up the morale at the office! Since Alex doesn't get out much she doesn't get to be complimented and it seems that was the trick to get her pussy wet and ready because she mentions they're the only two at the office and what else is there to do at 2 A.M. other than fuck!
It doesn't take long for the guy to get his cock into her tight ass, and from there it's one rip roaring hardcore breaking room office fuck that turns into a naughty ass to mouth facial!
Download this full scene in HD at Naughty Office – your instant access is here and now!